For a long time, fashion has been presented as a perpetual movement, where new styles would emerge one after another, always opposing old and new, as well as past and present in a state of disruption. Check out here the most outstanding highlights from the Paris Women's Fashion Week Autumn Winter 2020;
BALENCIAGA
Making a metaphorical statement that not only implied that our planet was going in the wrong direction, but also pointed the finger at our fashion scene, which seemed to have lost touch with reality, Gvasalia conveyed on an intimidating spectacle, where the floor of the set was flooded with water and on the ceilings, screens reflected stormy skies as heavenly as they were hellish, presented 105 looks that extracted the essence of the brand's Creative Director's characteristic style. Once again, Demna Gvasalia interprets the heritage of a brand, from one season to the next, providing collections that do not look like each other, but which nevertheless must be part of a continuum and as evidenced by Balenciaga's show, more and more often, the setting of a runway show becomes more important than the collection itself. 
SAINT LAURENT
Anthony Vaccarello reinterprets Saint Laurent's vision with a strong personal touch that fits in perfectly with his personality and with Maison itself. The designer treated latex like the new denim, surprising everyone with sexy looks inspired by the nineties. The vintage designer's mix of vinyl leggings, tops and dresses for a hypersensual silhouette made them great. The designer proved he has the guts to keep pushing the gas of sensuality with creativity and design. It's not easy to mix the two worlds without looking tacky, and on the other hand, it's been done so many times that the risk of déjà vu is there. But the designer did his best by mixing products and dreams to create a very YSL look without the nostalgia.
MARINE SERRE
The 1984 film directed by David Lynch was the inspiration for the collection of French designer Marine Serre. The designer imagined the communities that exist in this apocalyptic future where, in her vision, mixture is the engine that mixes everything. Marine Serre kept her attention on her message of warning for a world that is rapidly collapsing, and this collection seemed lighter than the previous ones; she managed to keep her codes while leaving behind some of the drama she used to have. 
DIOR
Maria Chiuri released her "working class" approach in a luxurious way where glamour and magic are outdated. This collection was about Dior in its most informal and relaxed moment, elevating the everyday, aimed at women who have adopted new, freer lifestyles, manifesting the feminist consciousness that she developed in the Rome of the 70s. The designer has used her teenage diaries as a creative resource, giving the collection an almost humble touch.
KENNETH IZE
Lagos-born fashion designer Kenneth Ize, and finalist for the LVMH 2019 award, made his Paris debut with a casting that did not strictly resemble a rookie situation, as the powerful press and models such as Adwoa Aboah, Lindsey Wixson and Chai Maximus (among others) showed up, with a surprising last look from Naomi Campbell walking down the catwalk, immediately becoming a fashion favorite, as her goal of preserving and developing African craftsmanship caught the eye. The traditional Nigerian "asa-oke" fabric embodies both the history and heritage of the country and the designer is deeply committed to making people aware of this ancient tradition around the world. 
Berliner Christa Bösch and Cosima Gadient, the duo behind Ottolinger, are storytellers: this time, they have focused the collection around the idea of a "utopian alpine punk science fiction couture". Both escapist and rooted in urban realism, Ottolinger continues to experiment with fabrics and references for a complex woman.
KOCHE
The mixed collection explores some of Koche's classics such as the patchwork of different fabrics, prints and some sports and streetwear looks, especially for men. This collection seemed a bit like a step back from their original designs.
MUGLER
Rest assured that if there were any doubts: the sportswear is very finished, something that Casey Cadwallader demonstrated by showing a very sexy clothing line at Mugler where the garments embrace the figure enhanced by daring proportions. The message conveyed in this collection is one of empowerment, where sex appeal is the star. 
MAISON MARGIELA
John Galliano's mixed collection for Casa Margiela explored, once again, the dress codes of the bourgeoisie while reviving them with his disruptive approach. The ability to take apart and assemble new and interesting shapes is Galliano's magic touch. In addition, La Maison introduced a new upcycling project called 'Recycle' where the white label - which lists the origin and period - shows that they are authentic pieces, hand-selected by the designer, restored and re-owned as limited edition garments or accessories.
DRIES VAN NOTEN 
Once again, Dries Van Noten showed how to draw inspiration from the past and how to reinvent it without being too nostalgic, while adding a touch of elegance.  The collection was a well-balanced mix of sparkling glamour and dirty flannels - everything looked dark but never gloomy. 
OFF-WHITE
After announcing that she will focus on high-end fashion, off-white shows a progression of the women's collection where her streetwear style began to become a more mature look. The girl became a sexy lady, wearing silk shirts and leather skirts. As usual, the references were different and bright. 
Yamamoto is as much as sociologist as a poet: he creates garments that are odes to beauty and yet critical of society. This season was no exception, as he introduced corseted dresses worn back to front, coats with necklines transformed into enveloping scarves, or dresses composed of layers of frayed ruffles.
RICK OWENS
Rick Owens ideally continues the aesthetic path that began with the last men's show. Asymmetrical cut-out dresses, giant shoulders and signature platform boots. The inspiration came from British new wave musician Gary Numan, whose aesthetics and music led Owens to enter into a dialogue with him to work on the show's soundtrack.
PACO RABANNE
Julien Dossena presented an exquisite collection that celebrated the strength of women and their freedom, highlighting their power. But he also wanted to highlight their romance, so the designer played with a collision of different eras with a very radical approach, balancing fragility and strength. Questioning the relationship between history and the avant-garde, luxury and second hand.
LOEWE
Jonathan Anderson's autumn-winter offer for Loewe was very successful. The Creative Director of the Spanish brand analysed the way in which Spain and its culture are perceived from abroad, working on its past iconography and its forms and constructions. Anderson showed an image of Spain filtered through his lens, never too folkloric, always romantic but never sentimental, more adult even fresh and youthful, with craftsmanship at the forefront as part of the brand's DNA.
VALENTINO
Pierpaolo Piccioli opted for black and had most of his models wearing thick-soled boots, his collection exuded a sense of femininity that is very dear to the Roman house. He finally dared, and the result was surprising. The designer explored a new femininity that was sharper and more durable, yet sensual. Tailoring was fundamental, and he dissected and reassembled it by adding touches of haute couture.

"I think that talking about categories makes no sense, I see humanity as a whole with the same rights and without limits and limitations. That's why I've explored the uniform as a unifying element that cancels out appearance and shows the personality of each person. I noticed that the younger generations often have a carefree approach to gender, and since they represent our future, I am convinced that this is the way to approach it."
ANN DEMEULEMEESTER
Each season, Sébastien Meunier seems to delve a little deeper into his own vision of Ann Demeulemeester's heritage. This collection was no exception, and immersed us in Gothic culture - both the artistic movement and the subculture. This is a precise way of describing her style: equally rooted in historical and subcultural references.
SACAI
Keeping the signature silhouette that melds different items in one, this season the collection looked more grown-up and ladylike. The Japanese designer enlightened her aesthetic without losing an inch of her identity and delivered a classy and very feminine collection that moved forward to a new aesthetic still very Sacai.
And breaking news, the Japanese Chitose Abe from the house of Sacai will be the first designer invited by the French Maison to cover the role of Creative Director. She will imagine a new look for haute couture to be presented in July 2020.

"The idea of different designers interpreting a Haute Couture brand came to me in the nineties for a Parisian Haute Couture House that found itself without a designer. I am pleased that this concept is now becoming a reality with Chitose Abe de Sacai as the first guest designer. I admire her work, we have many things in common creatively and we share a similar vision of fashion. I'm happy to give her complete freedom," said Gaultier. 

"I have great admiration for Jean Paul's unique vision of subversive femininity and originality, both of which I have striven for in my work from the beginning. It is truly an honor to have the opportunity to be the guardian of his house as the first designer of this project," explained Abe.
LOUIS VUITTON
Nicolas Ghesquière proposed the "anti total-look" working on the concept of time and relating different epochs to their aesthetics. The tie with past, present and future was the main focus and he questioned himself on what would have happened if countless ages had been united in the same moment and place. His narrative pushed the idea of wearing clothes with a careless approach and a freedom of thought and mixed/avoided any gender or style.
CHANEL
This Fall-Winter Chanel's collection was about romanticism, but without any frills or flowers – the designer spoke just with the clothes and the attitude of the models on the catwalk. Set in the Grand Palais as usual, Chanel showcased a cozy and pure collection, very 90s.
GAUCHÈRE
Intuitive and spot-on, designer Marie-Christine Statz, founder of the label Gauchère, delivered a pared-down collection of rethought tailoring. One that she confronted with radical feminine touches that nevertheless given a boyish je-ne-sais quoi. She seemed to experiment with the idea of uniform as a whole.
LACOSTE
British-born Louise Trotter have been reinterpreting and fine-tuning René Lacoste's heritage – one that is simultaneously functional and luxurious, without one contradicting the other. Hinting both at tennis players and UK counter-culture, the collection was a fortunate encounter between Parisian savoir-faire and a London edge.
Y/PROJECT
This season was about elevating women, letting them grow and become more sophisticated without denying Y/Project twisted aesthetic language, which in this collections, was linked to the street culture, emphasizing the importance of exploring different fields. In fact, this season's woman had a lady's look but interestingly twisted with Glenn Martens' recognizable reconstructions.
ISSEY MIYAKE
Satoshi Kondo, Creative Director of Issey Miyake, conceived his collection through onomatopoeic analysis of Japanese words describing the acts of manufacturing processes. Toritori (the state of being different), Konekone (kneading), Goshigoshi (staining), Kukkiri (the condition of being sharp and clear), spah (the sound of cutting something with a sharp object). Kondo's work injects the brand with fresh blood, and the direction seems to be right, but it is essential to dare new aesthetic territories to lead the brand into a new era.
THOM BROWNE
For the first time in career, Thom Browne hosted a co-ed show where both men and women were wearing the same outfits. This collection let the American designer explore a new way of the fluidity of genders using the same clothes for both sexes. The craftsmanship of each outfit is incredibly high (the quilting above everything).
COMME DES GARÇONS
For this collection, the Japanese designer reflected on her work and saw herself as a perpetual futurist always looking for something new and unexpected. The collection was, of course, entitled Neo Future and she wondered if it is still possible to invent something perfect in today's super-fast, over-exposed society. Inspired by this concept, 20 looks were presented that were a remix of her visions of the past, a sort of modernized alphabet of Kawakubo's language. Each of the looks was treated as a separate show, even the soundtrack was different for each of them.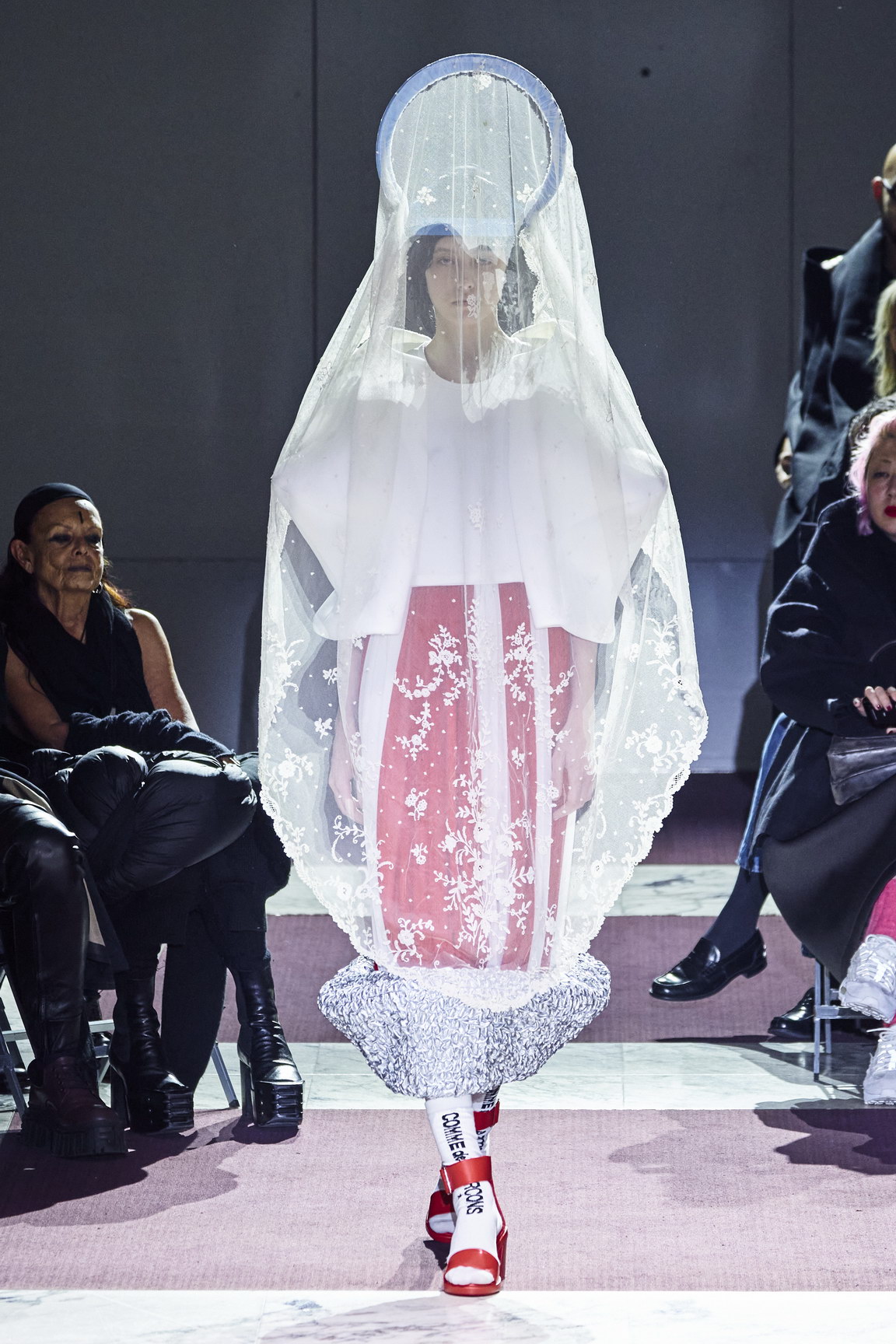 HAIDER ACKERMANN
Broken white on ivory, satin on velvet: this collection displayed a harmony of associations. With a unique and fluid aesthetic, this collection by Ackermann resulted in a timeless femininity. The collection also featured men's clothing, which began with monochrome looks.  This season it pointed to a form of urban bohemianism, a desire to reconcile our hyperactive lives and a secret search for inner peace.
VIVIENNE WESTWOOD
Pairing classicism with streetwear and functionality, the designer reminded us of the multiple functions a garment can play. From gender to social class and politics, the show explored the plethora of meaning each garment can convey.
GIVENCHY
Inspired by the glamour of the Nouvelle Vague movies, Waight Keller's collection was glamorous and the women proposed appeared sophisticated both in the day and the night looks. The vast hats, the tailoring dresses recalled the beauty of the late 50s and 60s in the shapes. The outerwear was very charming and perfect for those women who like to be noticed when they walk in the room. 
ALEXANDER MCQUEEN 
Sarah Burton dissected the traditional Welsh culture, costumes and crafts, imagining for this season, a woman who felt heroic, bold and with her heart in the ground, sending a message of love to encourage to protect instead of spreading anger and generating hate.